Power

POWER AND TRANSMISSION LINE SURVEYING SERVICES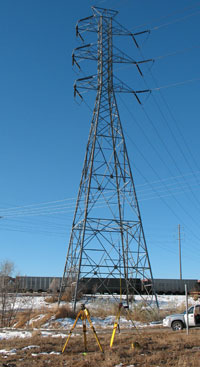 TRUE NORTH is a leader in Right-of-Way Surveying, Right-of-Way Determination, Right-of-Way GPS Control and Right-of-Way Plans and will be a proven asset on your Power or Transmission line Project.  We have completed countless numbers of Utility Corridor Surveys on power and transmission line projects.
Utility Corridor Survey (UCS) – Purpose: These types of surveys are for water, power etc… corridor type projects that include miles of design mapping, government section breakdowns, extensive GPS control networks, aerial control targets, permission to enter private property letters, research and legal descriptions and exhibits.  The right-of-way/property information is shown by recorded documents which are then rotated on surveyed section lines and property pins.  A UCS is NOT a boundary survey, but is sufficient and more cost affect then providing a boundary survey on multiple properties over several miles.
PASSION combined with our extensive Transportation and Right-of-Way experience, our expert knowledge in Right-of-Way determination, our top of the line Robotic Total Station, GPS/RTK Surveying Systems, and our High Definition Scanners, Aerial Mapping and Airborne LiDAR services set us apart for the others.
VETERAN OWNED SMALL BUSINESS – TRUE NORTH is a certified small business and is a Veteran Owned Small Business (VOSB).
RAPID RESPONSE – One of the most valuable things TRUE NORTH can provide our clients is our rapid response in emergency situations. Our team can meet with the client within a few hours notice.
SUB-CONSULTANTS – TRUE NORTH has a strong team of sub-consultants that specialize in certain tasks, which may be required on a power and transmission line project. These services include: Construction staking, Aerial mapping, LiDAR airborne mapping, High Definition scanning, underground utility locates, potholing/boreholing, mining claims, wetlands and land title documents.
PAST PROJECTS – TRUE NORTH has successfully completed many miles of right of way determination, set multiple Aerial Mapping Panel Points, along with performing the following tasks: Section Breakdowns, Ownership Information, Utilities, Potholes, Legal Descriptions, Exhibits and Contour Mapping. The following is a partial list of projects completed since 2008.
Xcel Energy – Pawnee Steam Electric Plant – Monitoring Well and Pond Survey – A
Xcel Energy – Pawnee Steam Electric Plant – Monitoring Well and Pond Survey – B
Xcel Energy – Pawnee Steam Electric Plant – Monitoring well survey
Xcel Energy – Pawnee Steam Electric Plant – Evaporation pond survey
Xcel Energy – Cherokee Power Plant – Mapping of plant – 160 Acres
Xcel Energy – Cherokee Power Plant – Cross-sections of polishing ponds
Xcel Energy – Pawnee Steam Electric Plant – Mapping of holding ponds
For more detailed information, please contact us at Info@TRUENORTHsurvey.com